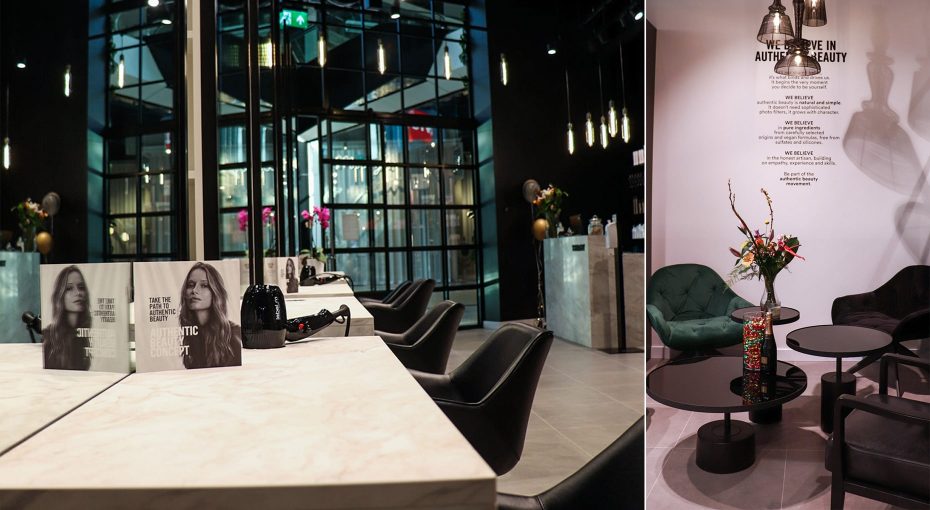 Kornoelje 27
2262 AX Leidschendam
T - 070-2058199
westfield@toniandguy.nl
Cut&Blowdry
| | | |
| --- | --- | --- |
| New Talent | | 55 |
| Stylist | | 70 |
| Top Stylist | | 75 |
| Style Director | | 85 |
Blowdry
| | | |
| --- | --- | --- |
| Blast / heat | | free service |
| Blowdry | | |
| New Talent | | 47,50 |
| Stylist | | 49,50 |
| Topstylist | | 51,50 |
| Style Director | | 53,50 |
| Stylingtools | | add 17 |
Kids Haircut
| | | |
| --- | --- | --- |
| Up to 15 years | | |
| -20% off all CUT & BLOWDRY prices | | |
Styling service
| | | |
| --- | --- | --- |
| Styling service in salon or bridal hair up in salon will be calculated after consultation. Price is based on the hour rate of the New Talent, Stylist, Top Stylist or Style Director. | | |
Technical
| | | |
| --- | --- | --- |
| Tint Regrowth | | |
| until 1,5 cm - S | 1,5 - 2,5 - M | 2,5 - 3,5 - L | | |
| S 56 | M 66 | L 76 | | |
| All Over Colour | | |
| S 86 | M 96 | L 106 | | |
| Pre lightner / Toner | | |
| S 131 | M 152 | L 173 | | |
| Fashion colour | | |
| S 131 | M 152 | L 173 | | |
| Highlights T-Section | | |
| S 131 | M 160 | L 187 | | |
| Highlights Half Head | | |
| S 142 | M 170 | L 197 | | |
| Highlights Full Head / Lowlights | | |
| S 174 | M 195 | L 229 | | |
| | | |
| Toner | | 43 |
| Extra product | | add of 17 |
Fibreplex
| | | |
| --- | --- | --- |
| Fibreplex Recovery Treatment | | 48 |
| Fibreplex in colour | | 30,50 |
| Extra product | | add of 6 |
Hair treatment
| | | |
| --- | --- | --- |
| Mask | | 25 |
| Mask + addition or fusion | | 30,50 |
| CHROMA ID toner | | 30,50 |
| CHROMA ID fashioncolour with multiple tones | | 41 |
Keratin Service
| | | |
| --- | --- | --- |
| Keratin Service | | |
| S 274 | M 297 | L 319 | | |
| Including FREE sulphate free shampoo and conditioner. | | |
NOTE
Our prices reflect the level of our stylists and technicians which is determined by training and experience.
All prices are 'from' and may vary depending on the technique used, hair type and length. Blow-drying is not included with Technical or Treatment.
Three colour rates depend on hairlength: S- M – L (short, mid-length & long). Regrowth until 1,5 cm – S | 1,5 – 2,5 cm – M | 2,5 – 3,5 cm – L  
NEW TALENT
New Talents are staffmembers, who are busy finishing their intensive training on all TONI&GUY methods and techniques.
STYLIST
Stylists are fully qualified staffmembers which have completed their intensive training on all TONI&GUY methods and techniques.
TOP STYLIST
Top Stylists have perfected the their skills, a longer length of employment and perfected the TONI&GUY methodology.
STYLE DIRECTOR
Style Directors are super qualified staffmembers who are responsible for the education and creative perfection of the team.
ART DIRECTOR
Art Directors are responsible for the creative direction of the salons in The Netherlands and ensure that the latest trends and techniques are available in the teams.
EXTRA BENEFITS & OFFERS 
We choose our services and products carefully to ensure our clients experience the highest quality. Next to our cutting, colouring and styling services we offer the following extra services to satisfy each and every client both in as outside the salons;
Giftcards

TONI&GUY Creditcard

Free service on fringe & contour until 2 weeks after a full service

Student discount of 10% on all services

Rebook discount of 10% when rebooking the next appointment during check out

Retention discount of 20% on all services when visiting the salon within 4 weeks after the last visit, not in combination with the TONI&GUY Credit Card

Kids up to 15 years 20% off all CUT & BLOWDRY prices
TONI&GUY Westfield bevindt zich in het innovatieve, unieke, volledig overdekte winkelcentrum Westfield – Mall of The Netherlands in Leidschendam. Westfield Mall of The Netherlands is een winkelcentrum van wereldklasse in Nederland, het is een nieuwe beleving waar mode, eten & drinken en vrije tijd samenkomen. Een zeer unieke combinatie van meer dan 280 exclusieve winkels, restaurants en belevingen gelegen net buiten Den Haag.
De 'Grand Opening' van de salon vond plaatst samen met de officiële opening van Westfield Mall of The Netherlands, op 18 maart 2021. Het creatieve team van stylisten en technici van TONI&GUY Westfield kan haast niet wachten om je te verwelkomen in hun salon.
Openingstijden
| | |
| --- | --- |
| Maandag | 11.00 - 20.00 |
| Dinsdag | 10.00 - 20.00 |
| Woensdag | 10.00 - 20.00 |
| Donderdag | 10.00 - 20.00 |
| Vrijdag | 10.00 - 20.00 |
| Zaterdag | 10.00 - 20.00 |
| Zondag | 10.00 - 18.00 |
Extra openingstijden
| | |
| --- | --- |
| 24 december | 12.00 - 18.00 |
| 25 december | Gesloten |
| 26 december | 12.00 - 18.00 |
| 31 december | 12.00 - 18.00 |
| 1 januari | Gesloten |
Franchisee
Lorraine