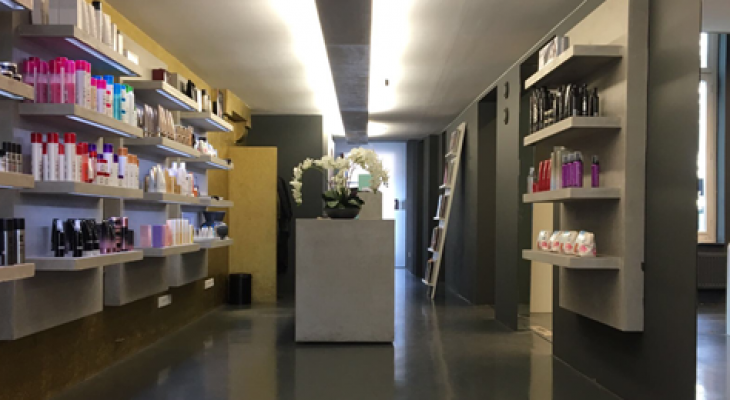 Boschstraat 90
6211 AZ Maastricht
T 043 323 34 33
maastricht@toniandguy.nl
Prijzen
styling
| | | |
| --- | --- | --- |
| Stylist | | |
| Cut & Blowdry women | | 54 |
| Cut & Blowdry Men | | 36 |
| Top Stylist | | |
| Cut & Blowdry Women | | 59 |
| Cut & Blowdry Men | | 41 |
| Style Director | | |
| Cut & Blowdry Men | | 44 |
| Cut & Blowdry Women | | 64 |
| Art Director / Manager | | |
| Cut & Blowdry Women | | 64 |
| Cut & Blowdry Men | | 44 |
| | | |
| Blowdry | from | 38 |
| Flat Iron | add/plus | 10 |
| Hair-up Fashion Fix | from | 35 |
| Hair Treatments | from | 10 |
| Bridal Service per hour in salon | from | 89.95 |
| Kids Haircut | | |
| Up to 7 years | | 25 |
| Up to 14 years | | 35 |
| Up to 16 years | | 10% discount |
| (Kids only from Monday till Wednesday) | | |
Prijzen
technical
Tint Regrowth


Colour applied to regrowth only

50
All Over Colour


Regrowth + length

65
Pre Lightner & Toner


Ultimate beautiful Blonde

90
Fashion colour


Techniques to define and personalise haircut

90
Highlights T-Section
75
Highlights Half-Head
90
Highlights Full Head
120
TONI&GUY Keratin Treatment


Hair taming treatment; frizz free hair and repair of damaged hair

from
240
Fibreplex recovery treatment
40
Fibreplex start in colour
25
Fibreplex every next bowl
5
Gent Colour
35
Senior members of staff
add
15
Special Discounts on Cut & Blowdry
Bezoek ons binnen 6 weken na uw laatste afspraak en ontvang 10% korting.
Revisit us within 6 weeks and receive a 10% discount.
10% studentenkorting op vertoon van een geldige studentenkaart.
10% korting indien 21 jaar of jonger. Alleen op maandag, dinsdag en woensdag.
10% discount on production of a valid student card. 10% discount, 21 or younger.
On Monday, Tuesday and Wednesday.
Alle Prijzen zijn vanaf en kunnen varieren afhankelijk van techniek, haartype en lengte.
All prices are from and may vary depending on technique used, hair type and length.
Blowdrying is niet inbegrepen bij een technical/treatment behandeling.
Blowdrying is not included in technical or treatment prices.
Onze prijzen zijn een reflectie van het niveau van onze stylisten en technicians dat verkregen is door training en ervaring.
Our prices reflect the level of our stylists and technicians which is determined by training and experience.
Openingstijden
| | |
| --- | --- |
| Dinsdag | 09.00 - 18.00 |
| Woensdag | 09.00 - 18.00 |
| Donderdag | 09.00 - 20.00 |
| Vrijdag | 09.00 - 18.00 |
| Zaterdag | 08.00 - 17.00 |
Franchisee
Clare